Jan 11, 2009 Grand Central Station Mezzanine
Thanks for the love today, I'm full
Today was a day no one would have been surprised if I cancelled. The cold air above the platform was sharp, my guitar strings immediately proved what they are made of: steel, cold steel.
Somehow like a little match girl fable stroking a match to create warmth and fantasy, everyone that passed me had huge warm smiles, amazing compliments and just a general warm haze of love. What happen in my sleep last night I thought?
A woman passed not missing her stride and said clearly out loud "live music for two dollar and twenty five cent!"
People lingered, they clapped-huh, it was 30 degrees easily.
I met neat people. A woman introduced herself as a singer "what do I do to keep my voice healthy" hmmm off the top of my head I said, what do you eat? Suggestions: sugar, bread and dairy are big to avoid.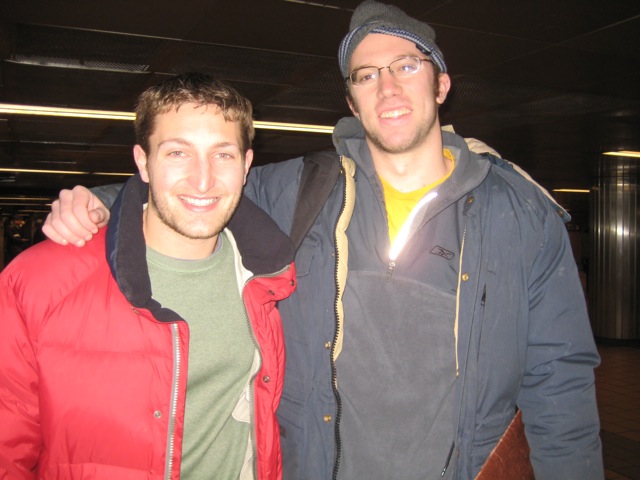 Two guys Chris and Carl stopped by to interview me as they are part of the curious who are interested in documenting street performer life underground. I happily complied even though I was tight from the cold.
Lorenzo Laroc was up next to perform, we've known each other since I joined MUNY in '99. We both have shared stages at Avery Fisher Hall and Radio City together, all thanks to our subway exposure. He has done amazing things, and is a true hard working and passionate performer. It was great to see him. If you've ever seen his gorgeous Lucite violin and how he performs you'd remember it!
Update
on 2010-02-01 22:36 by NYC Subway Girl
spoke to my Mom today and told her how okay it's been performing with such frigid temps (she's a Mom-she worries), and I said how happy I am singing and how happy I am knowing I make people happy when I sing. She said "you were always like that." 'Nuf said, talk about following ones heart's contentment to it's fullest! Can it get fuller? Why not! Bring it on New York!